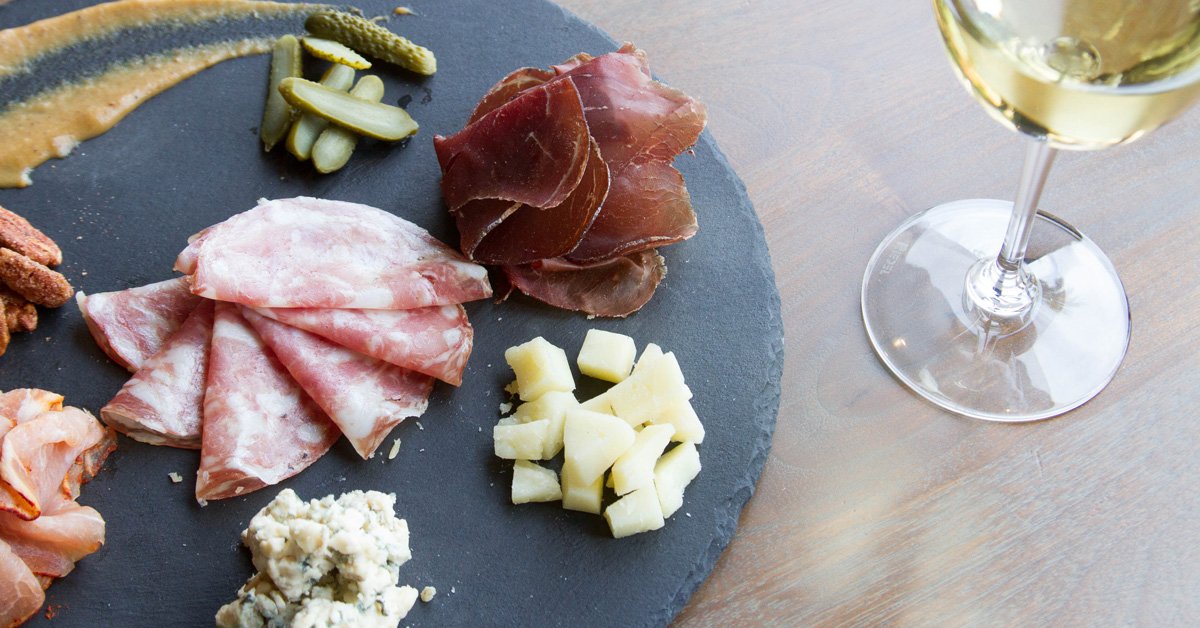 Charcuterie
& Cheese
Pick 3 - $15 Pick 5 - $23
Spicy Capicola, Smoked Tasso Ham,
Chorizo,
Bresaola, Salametti
Ford's English Cheddar -
England
Jalapeno Syrup, Pickled Anaheim Chilies, Chipotle Aioli, Preserved Lemons, Cilantro 15
PIMENTO CHEESE HUSH PUPPIES
Rosemary Bread Crumbs, Pickled Red Onion 5
Beef, Pork, Marinara, Mozzarella, Parmesan, Arugula Pesto, Rosemary Bread Crumbs 13
Spicy Buttermilk Dressing 10
Heirloom Tomatoes, Cucumber, Crostinis, Oregano 14
Herb Ricotta, Parmesan, Roasted Mushrooms,
Butternut Squash, Sage, Pumpkin Oil 16
Smoked Salmon, Potato-Chive Bread,
Garlic Aioli, Avocado Puree, Radish,
Pickled Mustard Seed 13
Crudite, Roasted Red Repper, Olive Oil,
Lime Sour Cream, Cilantro, Coconut Milk,
PEPPERONI PIZZA
Marinara, Mozzarella, Parmesan,
Marinara, Mozzarella, Parmesan,
Herbed Ricotta, Soft Herbs,
Mushroom Medley, Olive Oil 13


SAUSAGE PIZZA
Marinara, Mozzarella, Broccolini,
Garlic-Olive Oil Puree, Herb Ricotta,
Red Onions, Hearth Roasted Grapes, Sage 15
GRILLED ROMAINE
Add Grilled Chicken Breast $5
Add Shrimp $10
Add Blackened Fish $10
Mix Greens, Almonds, Roasted Grapes,
Tomatoes,
Red Onions, Shaved Fennel,
Romaine, House Caesar Dressing,
Pepperoni, Spiced Pecans, Brie,
Apples,
Red Onions, Tomatoes,
Citrus-Herb Vinaigrette 12
Peanuts, Edamame, Avocado,
Cherry Tomatoes,
Bibb Lettuce, Pineapple,
Chili-Orange Vinaigrette 19
House Bacon, Pecans, Tomato,
Danish Blue Cheese,
Shallots,
Herb-Mustard Vinaigrette 14
Parsnip Puree, Swiss Chard, Braised Cabbage,
Butternut Squash, Grapefruit Gremolata 34
Cornmeal Spoonbread, Zucchini Noodles,
Lemongrass, Rosemary Bread Crumbs 32
Brown Sugar Chili Rub, House Bacon,
Roasted Squash-Potato Hash,
Horseradish Bread Crumbs 29
Shrimp, Calamari, Cauliflower,
Calabrian Chili, Brown Butter 25
BELL & EVANS
ALL NATURAL
HALF ROASTED CHICKEN
Rutabaga Puree, Butternut Squash,
Brussel Sprouts,
Maple-Ginger Gastrique 24
8oz. W. SAND LAKE BURGER*
Swiss Cheese, Red Onion Jam, Pickles, Arugula,
Brioche Bun, House-Cut French Fries 16
Celery Root-Coconut Mash, Frisee, Grapefruit,
Radish, Thai Green Curry 30
16oz. HERITAGE FARMS
CHESHIRE BONE-IN PORK CHOP *
Sweet Potato Puree, Swiss Chard,
ALLEN BROTHERS
8oz. FILET MIGNON *
Crispy Yukon Gold Potatoes, Broccolini, Peppercorn Demi-Glace 39
Cape Canaveral Shrimp, House Bacon,
Sweet Peas, Black Pepper,
Coddled Egg* 25
House-Cut French Fries,
Smoked BBQ Sauce, Slaw
30 Full Rack /
18 Half Rack
ALLEN BROTHERS
8oz. FLAT IRON STEAK*
Green Beans, Crispy Potatoes, Bearnaise 28
MAC & CHEESE
TO SHARE
Maple-Chili Vinaigrette, Thyme, Garlic Butter 7
Thai Vinaigrette, Basil, Mint 7
Sharp Cheddar, Rosemary Bread Crumbs 8
Executive Chef: Jacob Woolf
Sommelier: Leslie Johnson
Sous Chef: Joe Testani &
Risson Medina
All Parties With 16 Or More Guest Require A Prix Fixe Menu
Please contact our Events Manager, Larry Stier, at
www.larry@slateorlando.com
407-500-7528
**Our Menus Change Seasonally**
*Consuming raw or undercooked meats, poultry, seafood, shellfish, or eggs may increase your risk of foodborne illness, especially if you have certain medical conditions*
Before ordering, please notify your server of any allergies.